Introduction
International video hosting site YouTube.com has been becoming more and more popular nowadays. Millions of people all over the world watch videos from home or work online. Many of them are refreshing the music channel to check if there is any new released music video. They may once questioned "how to download music videos from YouTube?". The ideal solution is a YouTube Downloader program such as Free YouTube Downloader which could help you download whatever music vides on YouTube while all you have to do is just pasting the URLs and clicking some buttons.
---
Step 1. Input Video URL
Switch to "Video Downloader" tab and enter the video URL in the bar of "Link". After that, choose the link type like "Single video/audio" or"Playlist/User" from the dropdown list of "Link type" and click "Add".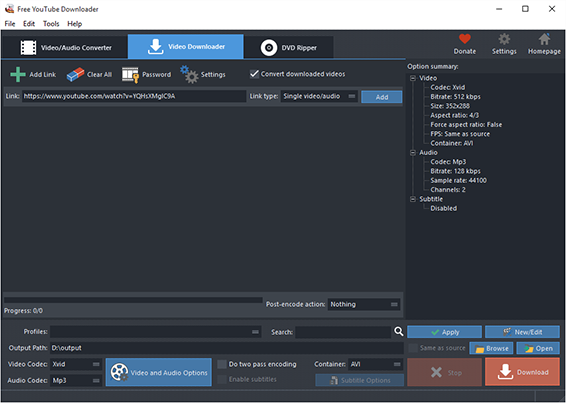 If there are needs to add links from other ways, click "Add Link":
Add a link: for those who want to download just a single video or audio, enter the URL in activated window and click "OK";
Add links in batch: for users who need to download more videos, enter the links (one link per line) in the popped up window and click "OK";
Add playlist/user: for users who hope to download videos from playlist or user, enter the URL of the playlist or user in activated window and click "OK";
Add playlists/users in batch: for those who chooses to download videos of multiple playlists or users, just input the links (one link per line) in popped up window and click "OK";
Import links from a text file: to import URLs from a text file, choose the text file which contains URLs (one link per line) in activated window and then click "Open".
As we know, some websites require logins for video downloading, click "Password" and input the username and password in the boxes of "Username" & "Password", finally click "Add".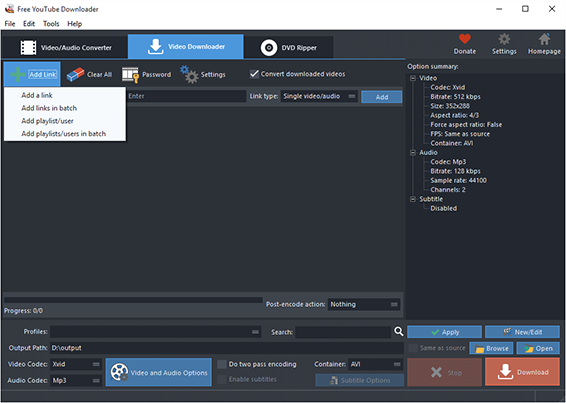 ---
Step 2. Choose Desired Output Format
When the URL is added, you will see the links of all video formats from certain websites listed in the dropdown menu of "Format" along with the video thumbnail and details including resolution, codec, framerate, size, etc. Choose the format you prefer. The built in previewer allows you to preview the video before download by clicking "Preview". If you need to delete download tasks, click "Clear All".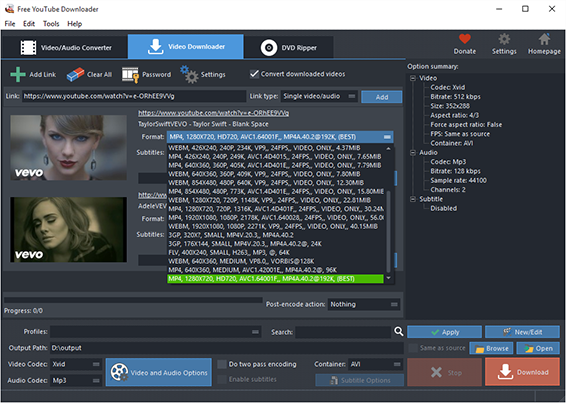 ---
Step 3. Specify Output Folder
To specify the output path for downloaded videos, click "Browse" and in the activated window choose an output folder. In the menu of "Post-encode action", you can choose the post-download actions like "close the program", "open output folder", "shutdown PC/log off/restart" & "do nothing".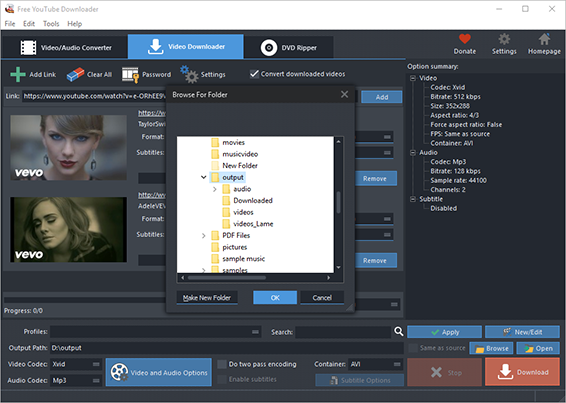 ---
Step 4. Start Video Download
When all settings are ready, click "Download" to start video download. A progress bar and some details will be provided during the process. If you need to stop download, click "Stop". To directly find the downloaded videos after download, click "Open". To view the log report, click "Logs".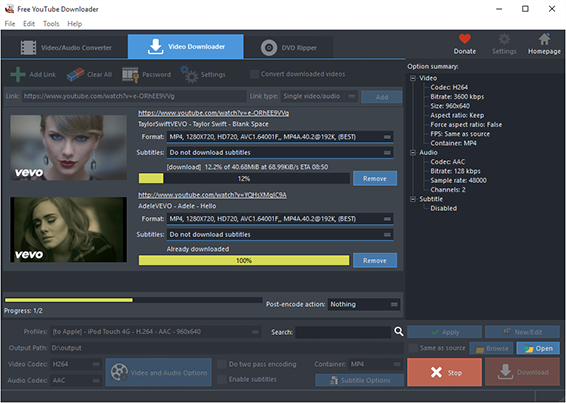 More Advanced Settings
Click "Settings" and choose "Video Downloader", you will find a few more advanced settings provided: set max parallel downloads; download audio when a "DASH" video is selected; don't download again if local file contains the same video; don't load thumbs.